Use this one week meal plan as a flexible guide to eat fun and flavorful heart healthy food all week long! Like what you see? Snag your free grocery list to make your shopping trip hassle free!
Flexible Meal Planning works for your Heart Healthy Meal Plan
This meal plan isn't meant to be a rigid rule book for everything you eat during the week. Our lives don't work that way! I've included 1 breakfast option and 5 dinners. Each dinner is enough to serve 4-6 adults, so they can easily be repurposed for lunches and leftovers. As a bonus I've included a fun snack idea too!
Take what you want and leave the rest. If you like the looks of the entire meal plan and want to give it a try, be sure to grab your FREE grocery list below so you can stock up on everything you will need!
Tips for Easy Meal Planning
Make sure you shop your kitchen first! If a recipe calls for ground beef, but you have a ton of ground turkey in the freezer- substitute as you can to save money and use what you have. America's Test Kitchen has an awesome resource for food substitutions you can check out as well!
If you are on Facebook, join the Eating with Heart Community HERE to ask questions and share your pictures and favorite recipe and food ideas and tips.
Breakfast
Sweet Potato Oatmeal Bake with Blueberries
Dinner
#2: Mexican Air Fryer Stuffed Peppers with Cajun Green Beans
#3: Honey Lime Chicken with Grilled Peach and Corn Salad
#5: Everything Bagel Chickpea Sandwiches
Fun Snacks & Treats
1 Week Heart Healthy Grocery List
All the meals in this summer heart healthy meal plan look good? Snag the grocery list below to make sure you have everything on hand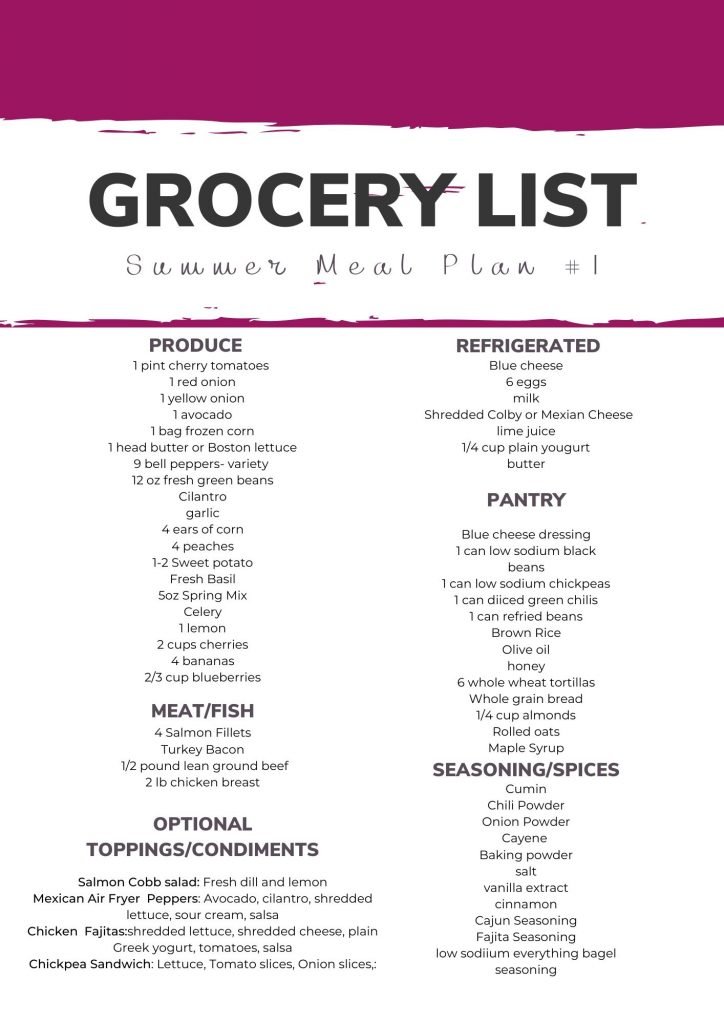 Want a customized meal plan that meets your needs and works with your preferences? Visit the services page to learn more!