Hey there! It's Kelsey and Simply Nourished Home is the space for me to share with you all that I know about creating stress-free family friendly meals and snacks that you and your whole family will love.
As a Registered Dietitian, I have tried what seems like a million things in the field to feel fulfilled and excited about my work. When it comes down to it, I became a dietitian because I LOVE food- reading about it, experimenting with it, cooking it, and most of all eating it!
After having children, cooking was at the literal bottom of my "fun" list. Cooking and cleaning up while taking care of two babies who wouldn't even eat anything I made? I didn't have time for that and the consequences started to peek up. With sandwiches every night and more take-out than I want to admit, I was creatively drained and nutritionally starved.
I know I am not the only mom out there who feels this way. Even if you don't love to cook, you want to get nourishing meals on the table for yourself and your family without a TON of extra effort. I hear you (I kinda am you) and this is my answer.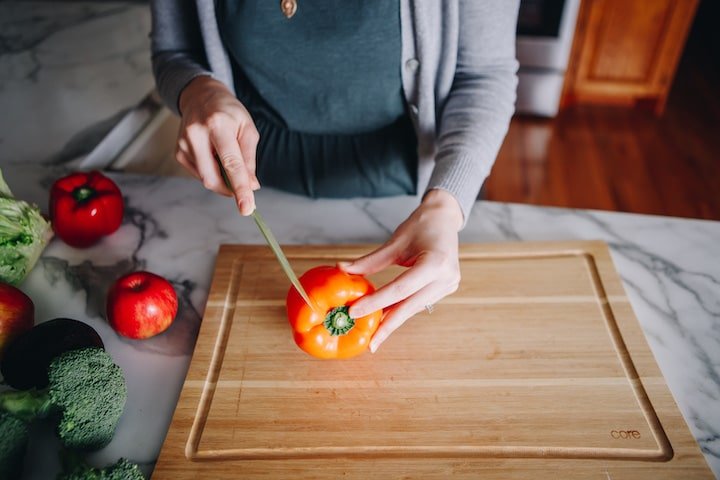 Where passion meets profession, I am sharing recipes that are quick, easy, and can be prepped ahead of time so that getting weeknight meals on your table will become a simple task, not an overwhelming one.
Living in rural Michigan with my husband and kiddos is exactly where I love to be. The quiet of the woods and the space to explore means the world to us for our family. With the closest supermarket over a 30-minute drive away, you can guarantee I'm not cooking with crazy to find or expensive ingredients and that most of my meals are budget friendly and easily accessible.
One of the most important parts of this venture is showing you that food can be nourishing in so many ways. The latest health fads and crazes don't have to overtake your dinner table or take up precious brain space that you need for all of the important things in your life. I use a lot of fresh whole foods along with convenience options when it makes sense and follow no diet rules or fads.
You might find some dishes labeled with vegan, gluten free or dairy free because I know this information is helpful to people who do not tolerate or choose to abstain from certain ingredients. This is never me promoting that way of eating, only providing information for those who need it to make the best choices for themselves.
I love to help and inspire people to enjoy nourishing food and find their own groove in the kitchen. Creating a recipe and sharing it with you is the best part of this blog. Be sure to show me your favorites by tagging @ on Instagram or Facebook and I will be sure to share your recreation!
Feel free to contact me with any questions, concerns, or stories of how simplifying dinner time has helped you live a more nourished and joyful life with your family!
To contact: Feel free to send an email over my way at SimplynourishedhomeRD@gmail.com