Need a quick and tasty vegetable side for dinner? This crispy air fryer green bean recipe comes together in a snap to add a fresh and nutritious crunch to any dinner.
Jump to Recipe
Getting a vegetable on the table can sometimes seem like an impossible task. If the veggies aren't already in the main dish, who wants to spend a ton of time making a whole separate recipe? At least this is how I often feel when it comes to getting dinner on the table for the family.
I was not totally convinced I would love my air fryer when I got it last year for the holidays, but it has been a total game changer when it comes to getting something green on the dinner table.
How to choose an air fryer
If you don't already have one, there are a few things you should consider before picking out your next fun kitchen appliance.
How many people are you cooking for?
Air fryer basket capacities come in different sizes, which can mean the difference of cooking in 1, 2 or even more batches if you are feeding several people.
I have the Power Air Fryer XL which has a 5.3 Q basket. This is okay for my little family of four (considering most of what we make in it is really only for myself and my husband- the toddlers are a bit picky at this point).
What are you planning on using your air fryer for?
This also will dictate what size air fryer you purchase. The larger the basket, the more variety you can cook. Some allow you to cook rotisserie style chickens, while others will barely fit a cornish hen.
As my family grows into eating more of the same foods, we will likely grow out of this model and into a new one. I have my eye on the Ninja Foodi 8 in 1 for its larger capacity and multi-purpose use.
How to Make the Crispy Air Fryer Green Bean Recipe
Trim the green beans.
How to Trim Green Beans
Sort the green beans so that the tough knobby ends all face one direction.

The opposite ends are thinner and do not need to be trimmed.

Take a sharp knife and trim off the knobby ends with one cut.

Trimming off the bottom 1/4 to 1/2 inch of each bean so that the tough knobby end is removed.
2. Place the green beans in the fryer basket and spray with cooking spray or toss with light olive oil.
3. Sprinkle the green beans with the salt and italian seasoning.
4. Cook the green beans in the preheated air fryer for 8-10 minutes, taking the basket out to shake every 2-3 minutes.
5. Once the beans are as crispy as you want them, remove the basket, squeeze 1/2 a lemon over top and toss with freshly shredded parmesan cheese.
Easy make ahead tips for this air fryer green bean recipe
Prep the beans- Trim your green beans before you will be using them and store them, covered, in the refrigerator. This will make the weeknight prep less than 2 minutes!
What to Serve with Green Beans
Green beans make an excellent side to almost any dish, but these crispy air fryer green beans are amazing with:
On the side of a turkey burger
With meatloaf and potatoes
Like this recipe? Be sure to rate it below and tell me what you think!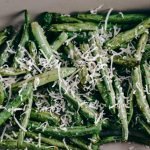 Print Recipe
Crispy Air Fryer Green Bean Recipe
These crispy and flavorful green beans make the perfect addition to any dinner, and with the air fryer they are ready in just minutes!
Ingredients
2

cups

green beans

ends trimmed

2

tsp

light olive oil

or cooking spray

1/4

tsp

salt

1

tsp

italian seasoning

1

tbsp

lemon juice

2

tbsp

shredded parmesan cheese
Instructions
Preheat the air fryer to 400 degrees F while you prepare the green beans.

Trim the tough ends off of the green beans.

Coat the beans in the light olive oil or the cooking spray.

Sprinkle the green beans with salt and italian seasoning.

Place in air fryer basket. Depending on the basket size, the beans may need to be done in two batches. Some overlay of the beans is okay.

Add basket to the air fryer and cook for 8-10 minutes or until the desired crispiness is achieved. Shake the basket every 2-3 minutes so that all the beans get evenly crisp.

Remove the green beans once done to your desired crispiness. Squeeze approx 1/2 a lemon or 1 tbsp of lemon juice over the green beans and top with parmesan cheese. Serve warm.
Notes
To reheat: Place back in air fryer at 350 for 2-3 minutes until warm and crisped back up.
Not ready to make it just yet? Add this recipe to your favorite Pinterest board to save for later!
This post may contain affiliate links. This means that if you click on the link and make a purchase I may receive a small commission at no cost to you. All opinions, thoughts, and recommendations are my own.