If you are throwing your vegetable peelings and unused pieces in the trash, you are likely also throwing away money and the best vegetable broth you could have! Keep reading to learn how easy it is to make your own vegetable broth from scraps and exactly how to do it!
I love making homemade chicken broth after I cook a whole chicken in the crockpot or pressure cooker. Its amazingly delicious and EASY, although it does take quite a bit of time and energy since it usually means my slow cooker is on for a full 24 hours.
Even easier than chicken broth is making vegetable broth at home. A good quality vegetable broth could cost over $2-3 per 4 cups, but I'm showing you how to make up to 12 cups for less than fifty cents!
How to Make Vegetable Broth From Scraps
1.Label a gallon-sized plastic bag or an airtight container and keep it in the freezer. Add clean vegetable peels, pieces, and parts to the bag instead of tossing in the garbage.
Note: Do not add any pieces, peels, or parts to the bag that are moldy, rotten, or otherwise inedible. Also avoid adding pieces that have dirt on them. See list below for vegetables to add and ones to avoid.
2. Once the bag is full of vegetable scraps, you are ready to start your broth or stock making process! Toss all of the vegetables into a large stock pot.
3. Fill the stock pot with water. Enough to completely cover the vegetables. Add Bay leaves, salt, and pepper.
4. Bring the pot to a boil. Once boiling, reduce heat and let simmer for at least 25-35 minutes. Add additional salt and pepper to taste.
5. Once cooled, pour through a fine strainer to separate the broth out from the solids. Add vegetable broth to mason jars, gallon-sized plastic bags, or other airtight containers. If using glass jars, make sure to leave room for the liquid to expand.
What Vegetable Peelings Can Go Into Broth?
Most vegetables can be used in homemade broth, but some are much better left out. As said above, any vegetable that is moldy, rotten, or otherwise inedible should stay out of the broth! These lists are not inclusive, but this is a good place to start for delicious homemade broth.
Vegetables to use in home broth or stock
Onions, outter peels included
Carrots, clean peels and pieces.
Celery
Potatoes
Leeks
Garlic, peels included
Potatoes, clean skins
Herbs
Vegetables to Avoid Putting into Homemade Broth
Cauliflower
Broccoli
Cabbage
Brussels Sprouts
How Long Can You Store Homemade Vegetable Broth?
Vegetable broth can be kept in the refrigerator for 3-5 days. Any that you make and will not be using that same week should be prepped for and stored in the freezer.
When frozen, veggie broth will keep for up to 3 months.
How to Use Homemade Vegetable Broth
Homemade vegetable broth can be used in a number of recipes. Anything from sauces, soups, stews, to cooking rice or other grains. You can save money by using this in place of recipes that call for chicken broth as well, although the flavor will be slightly different, the uses are the same.
Try this vegetable broth from scraps in Vegetable and Chicken Stew or Butternut Squash and Carrot Soup!
So, get your freezer bag ready and stop the habit of throwing away your onion ends and carrot peels. If you cook from home often, it doesn't take long to fill up a gallon bag, and you will be enjoying your vegetable broth from scraps in no time!
Did you make Vegetable Broth From Kitchen Scraps?
Rate it below
Tag me in your creation on Instagram !
Share it on Facebook !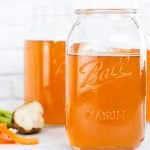 Print Recipe
Vegetable Broth From Scraps
Save your vegetable peelings and those veggies that have seen better days to make this delicious and virtually FREE Vegetable Broth from the scraps you save!
Ingredients
1

gallon

Freezer Bag of Veggie Scraps

pieces, peels, and parts of onions, garlic, carrots, celery, mushrooms, potatoes, leeks, peppers, etc. See notes on what NOT to use.

9-12

cups

water

Enough to cover the vegetables

2

bay leaves

1/4

tsp

ground peppercorns

more if needed

1/2

tsp

salt

more if needed
Instructions
Add all veggie scraps to the pot. Cover with 9-12 cups of water, or enough to fully cover the vegetables.

Bring contents to a boil. Reduce heat and simmer for 25-35 minutes.

Let cool. Strain through a fine mesh strainer. Store broth in freezer bags or in glass jars in the freezer until read to use. Broth will keep in the refrigerator for up to 5 days and in the freezer for 3 months.

To thaw for use: Let sit in the refrigerator overnight or run under warm water until thawed.
Video
Notes
Notes: 
If storing the prepared vegetable broth in glass jars in the freezer, make sure to leave enough room for expansion of the liquid as it freezes to avoid breaking the glass jars. 
** All nutrition information is an estimate only. The nutrition information will vary depending on ingredients and amounts actually used in preparations. 
It is best to NOT use cruciferous vegetables and those that could add an off taste (cabbage, broccoli, cauliflower, Brussels Sprouts to name a few). 
Depending on the vegetables used in each batch, the end result will vary in color and flavor- this is what makes it FUN! 
Want to make more cheap and easy homemade staples? Try: