Jump to Recipe
Need a fun appetizer for your next dinner party? These shrimp stuffed mushrooms come together quickly, can be made-ahead, and will bring a new level of elegance and flavor to the table.

When my first baby made her appearance 3 years ago, I became the "store-bought cheese and cracker platter bringer" to every family party and get together.. if I even went that far. There is nothing wrong with that, but it was such a far cry from my pre-baby food offerings that it's laughable.
Party food does not have to be complicated, and these shrimp stuffed mushrooms literally come together in minutes, look beautiful, and taste like a fancy restaurant hor d'oeuvre.
How to Clean Mushrooms
Cleaning the mushrooms without breaking them apart or ruining the skin is the most time consuming part of this recipe (and still doesn't take too long!).
You want to avoid washing the mushrooms. This will lead to a soggy mushroom that won't brown up as nicely when baked. Instead, grab a slightly damp paper towel and gently brush off any visible dirt. You may need to fold, use the other side, or grab a new towel if the shrooms are especially dirty.
Remove the stems, then to make the most room for stuffing, gently clear away the inner ribs. I did this with my 1-year-old's mickey mouse spoon (just the right size!) but any small metal spoon will do. This part isn't necessary, but you will get a lot more stuffing in each mushroom if you do, so I recommend taking the extra few minutes and clearing the ribs out.
If you need more guidance, here is a step-by-step tutorial that I find to be really helpful in properly cleaning mushrooms.
Selecting Shrimp for the Stuffed Mushrooms
Since the shrimp will be chopped small, there is no need to worry about selecting a specific size of shrimp. Just use 8 oz (or 1/2 of a 16 oz bag) of frozen shrimp for this recipe.
For this recipe, the shrimp must be raw. Do not purchase the pre-cooked shrimp that is pink in color and ready to dip in cocktail sauce. If that shrimp is cooked, it will become tough and rubbery.
To make the preparation of this recipe as easy as possible, try to find shrimp that is "deveined, peeled, and tail-off". Otherwise, you will be spending 5-10 minutes taking the shell and tail off of all the shrimp before adding it to the food processor.
How to Make Shrimp Stuffed Mushrooms
You absolutely do not need a food processor for this recipe, but if you have one it makes the prep 10x easier! Instead of chopping the raw shrimp, jalapenos, green onions, and garlic just toss it all in the processor and let the machine do the work for you.
Shrimp Stuffed Portabella Mushrooms With a Food Processor
Add all ingredients to the food processor (whole) EXCEPT the mushrooms, cream cheese, and parmesan cheese. Hit pulse several times until everything is in small chunks, about the size of a pencil eraser or your little fingernail. You want to avoid over processing, as it can quickly turn into a puree and you will lose the delicious chunks of shrimp that you want to see and taste in the final product.
Shrimp Stuffed Portabella Mushrooms WITHOUT a Food Processor
Mince the garlic and jalapeno pepper. Chop the shrimp into bite sized pieces (about the size of a pencil eraser or your little fingernail). Finely slice the green onion. Then, add all of the ingredients EXCEPT the mushrooms, cream cheese, and parmesan cheese to a bowl and combine well.
Fill the Portabella Caps With the Shrimp Stuffing
Now that you have your filling combined, you want to gently mix it in with the room-temperature softened cream cheese. Stir with a spatula or a wooden spoon until the cream cheese is evenly incorporated.
Spoon about a 1/2 tablespoon full of the stuffing mixture into each cap. You may need a little more or a little less depending on the size of each mushroom. You want to filling to stick out the top, but not so far that it will spill out as it cooks.
Once each mushroom is filled with the shrimp stuffing mixture, sprinkle freshly shredded parmesan cheese on the top of each mushroom.
Line a baking sheet with parchment paper. Bake the shrimp stuffed mushrooms in a 350 degree F pre-heated oven for 15 minutes. Stick under the broiler for another 2-3 minutes until the tops are golden brown. Serve warm.
Easy Make Ahead Tips
These shrimp stuffed mushrooms are super simple to make ahead and bake just before eating. These can easily be entirely made the day before or the morning of a party, stored in a covered container in the refrigerator, then baked when they are needed. OR, if you bake them ahead of time, just avoid over browning them until the day of. When you are ready to serve, you can stick them under the broiler for a few minutes to brown and warm up for serving.
FAQ's Tips and Tricks for Shrimp Stuffed Mushrooms
Make sure to use the mini portabella mushrooms if using as an appetizer. These are the perfect 1-2 bite sized mushrooms for a finger-food appetizer.
These stuffed mushrooms are naturally gluten-free.
If you don't like the heat, use less jalapeno pepper and omit the crushed red pepper.
For a larger party, this recipe is easily doubled for up to 48 servings.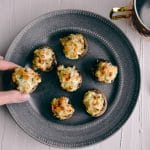 Print Recipe
Shrimp Stuffed Mushrooms
This spicy and fun shrimp stuffed mushroom appetizer can be prepped ahead of time and baked just before to your next dinner party for a bite sized grab-and-go that all of your guests will love!
Equipment
food processor (optional)

baking pan
Ingredients
20-24

whole mini Bella mushrooms

Two 8-oz containers, washed and stems removed.

8

oz

shrimp, peeled, deveined, and tail-off

Size of shrimp does not matter

2

green onions

white end trimmed off

2

cloves garlic

1/2

jalapeno pepper

or approx. 2 tbsp minced

1/4

tsp

salt

1/4

tsp

pepper

1/4

tsp

crushed red pepper flakes

optional

4

oz

cream cheese

softened to room temperature

3

tbsp

shredded parmesan cheese
Instructions
Preheat the oven to 350 degrees F.

Wash and remove stems from the whole mini bella mushrooms. Use a small spoon to remove the inside ribbing if needed to make more room for the stuffing. Arrange the mushrooms bottom side up on a parchment paper lined baking sheet.

Add shrimp, green onions, garlic cloves, jalapeno pepper, salt, pepper, and crushed red pepper flakes (optional) in a food processor. Pulse until everything is chopped small, making sure not to process too much (avoid the mixture becoming pureed).

Place the softened cream cheese into a small/medium bowl. Add the shrimp mixture and gently combine until no large chunks of cream cheese remain and everything is incorporated.

Spoon the mixture into the mushroom caps. A 1/2 tablespoon works well as a scoop, using more or less for the mushrooms depending on size. Fill the mushroom with a small heap on top, but avoid overfilling as the mixture may fall out as they bake.

Sprinkle each mushroom with fresh shredded parmesan cheese.

Bake at 350 for 15 minutes. Place under the broiler on high for 2-3 minutes until the tops are golden brown.
Notes
If making ahead, finish everything except baking. These can be made 24 hours before baking. Just store in a covered container in the refrigerator and bake prior to serving.  
If you do not have a food processor, just finely chop all ingredients that would be processed and mix together by hand. 
To be sure the shrimp mixture is adequately cooked, use a cooking thermometer to verify the internal temperature is 145 deg F or over. The chunks of shrimp will appear pink in color when cooked through. 
Did you make this recipe? Be sure to rate it below and let me know how much you and your guests loved it!