This vanilla coconut creamer recipe comes together in minutes and adds a light and nutty flavor to your morning hot or iced coffee. Skip the store bought creamers for this homemade with less ingredients, less sugar, and more flavor!
Recipe Cost: $2.81| Cost Per Serving: $0.17
There is something to be said about making things "homemade". While I would love to make most of our foods from scratch, the time and effort required for many of them is just not realistic.
This coconut coffee creamer is not one of those foods! In less than 2 minutes you'll have a big jar of coffee creamer ready to bring delicious flavor to your morning coffee all week long.
So in the time it takes my 3 year old to brush her teeth, I've got a week's worth of homemade dairy free coffee creamer ready for the week. That's my kind of from-scratch-cooking!
The 3 Ingredients You Need For This Vanilla Coconut Creamer Recipe
Light Coconut Milk
You could use full fat here, and a lot of recipes will call for it. My reason for using the light stuff? I can't stand the thick layer of oil that sits on top of the coffee when the full fat version is used.
While this may be a bit less "creamy" than the full fat version, in reality they both melt right down to liquid once they hit your hot cup of joe. So unless you are only using it for iced coffee, the creaminess doesn't change too much between full and light coconut milk.
Pure Vanilla Extract
Don't use the imitation stuff here! I once bought a big bottle of imitation vanilla extract on accident and regretted it for the life of the bottle. You just can't beat the flavor of the real stuff!
Maple Syrup
While this recipe calls for 2 tablespoons of maple syrup, you can always add more if you like a sweeter coffee. This amount adds just enough to remove the bitterness, but not so much that the coffee tastes sweetened.
If you're thinking "I'll just use sugar".. don't! Since we are not heating this mixture up, the sugar won't emulsify as well as the maple syrup. Plus, the flavor combo of coconut-vanilla-maple syrup really can't be beat.
How to Make Coconut Milk Coffee Creamer
This really is so simple and takes so little time, it's a no brainer to make a batch each week!
Pour all ingredients (light coconut milk, maple syrup, and vanilla extract) into a blender. Blend for 60-90 seconds.
Pour into an airtight glass jar. Refrigerate. Shake well before using and add to your iced or hot coffee!
This coconut creamer recipe can be stored in the refrigerator for 7-10 days.
Did you make this coconut coffee creamer yet?
Rate it below
Tag me on Instagram !
Share it on Facebook !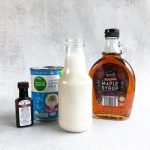 Print Recipe
3-Ingredient Vanilla Coconut Creamer
This quick and easy coffee creamer is the perfect creamy and flavorful addition to your hot or iced morning coffee!
Servings:
16
2 tbsp servings
Ingredients
1

can

lite coconut milk

2

tbsp

maple syrup

2

tsp

vanilla extract
Instructions
Add all ingredients to a blender. Blend for 60-90 seconds.

Pour creamer into an airtight glass container. Keep in the refrigerator for up to 7-10 days.
Notes
Blending the creamer helps emulsify the ingredients, but separation may still occur. Shake well before using. 
Not ready to make this Vanilla Coconut Creamer Recipe just yet? Add it to your favorite Pinterest board to save for later!
Want more coffee creamer recipes? I've got you covered with a tasty one below!