When you're given the news that there is something, anything, wrong with your health or that you are at risk, it can be a scary and unnerving time.
Whether you have been told you have:
High blood pressure
High cholesterol
Pre-diabetes
Heart failure
Fatty Liver Disease
Have already had a heart attack
A family history that puts you at risk for developing heart disease
There are many things you can do to take back control of your health and your life.
And you don't have to do it alone.
How working with a Registered Dietitian can help
As a registered dietitian, your health and your quality of living are my priority. There is no one size fits all diet plan that can help you to improve your health and work for your own individual life.
Instead of "stop eating this, cut this out, and never eat this again" we work together to create a plan and a roadmap so that you can improve your health and still enjoy the life you are here living.
Learning how food impacts your health, developing (and sticking to) healthy routines, and learning mindful eating practices are all major players in your health journey.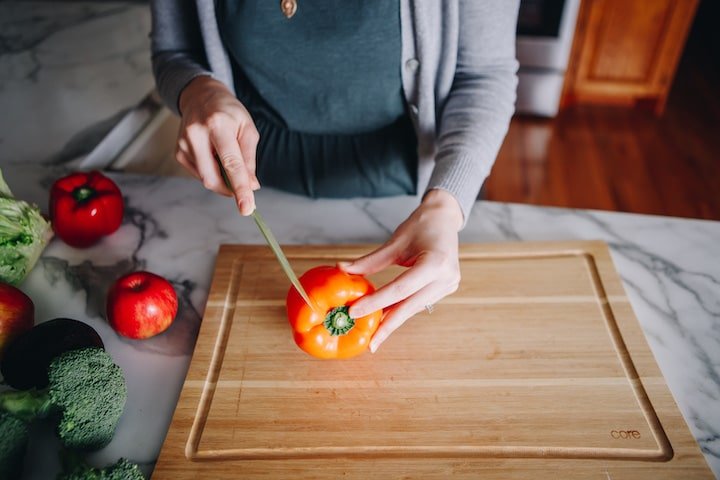 HOW EATING WITH HEART NUTRITION & WELLNESS IS DIFFERENT FROM THE REST
Have you been referred to a dietitian from your doctor, or maybe you have even seen a dietitian when you were in the hospital?
To be honest, I was once that dietitian. Dietitians in the hospital setting and system are busy. We want to help and do help with many important aspects of clinical care.
Unfortunately, you were likely given a hand-out to cover the basics, educated for 10-20 minutes, and sent on your way to figure the rest out on your own. This is a good start, but it's not the key to successful health changes.
ONE AND DONE IS NOT THE ANSWER
Are you ready to take charge of your health and prevent (or even reverse) heart disease?
High blood pressure, high cholesterol, pre-diabetes, lack of movement, high stress, poor sleep, a diet lacking important nutrients.. all of these factors increase your risk of a life changing heart attack or stroke.
NOW is the time to take action, make a change, and improve your health and your well-being now and far into the future.
This is where the Heart Smart Jumpstart program comes in.
What does the Heart Smart Jumpstart program involve?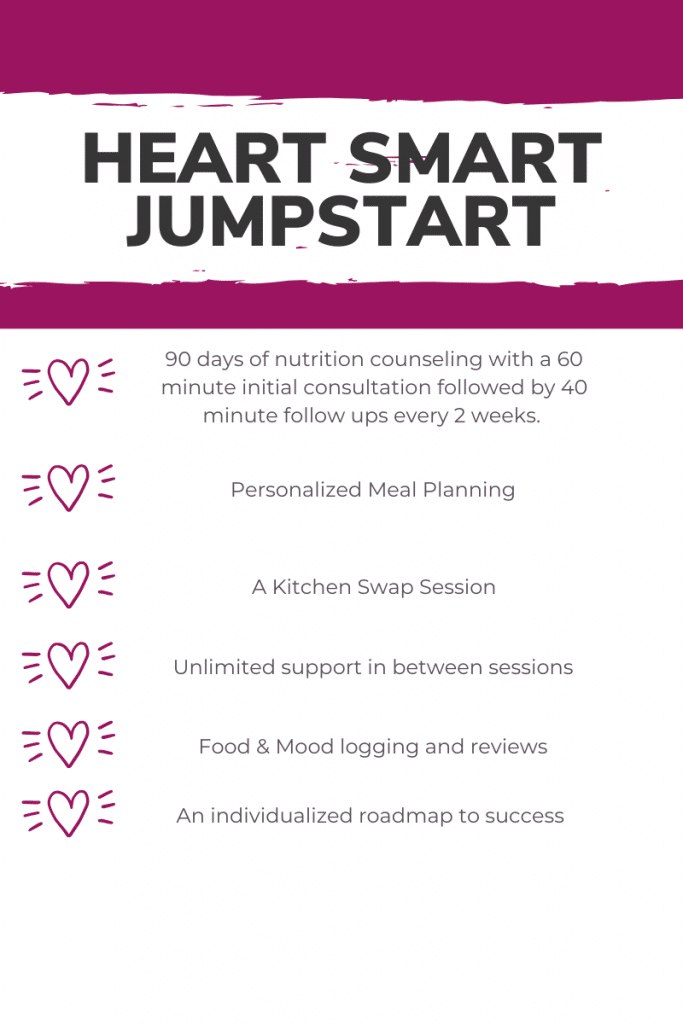 What can you expect to gain from the Heart Smart Jumpstart Program?
Lower Cholesterol
Through diet changes and implementing a sustainable movement routine you will start slashing your cholesterol levels. Lower your LDL, triglycerides, and total cholesterol while raising that good for you HDL cholesterol.
Improved Blood Sugars
If you are at risk for diabetes or have been diagnosed with pre-diabetes, then this program will help you get sustainable routines in place to help. You will begin eating balanced, nourishing meals from your personalized meal plans to help stabilize your blood sugars. Activity, stress reduction, and better sleep help in this department as well.
More Energy
One of the immediate effects of the lifestyle changes that improve your future health is the increase in energy you will feel. You are not dieting, cutting calories, and limiting energy. You will be fueling your body with nourishing food, energizing yourself with movement, and implementing stress reduction and sleep-improving practices.
Confidence In Yourself
One of the most important things you will gain from this 12 week program is the confidence to continue to make heart healthy choices in your life. You will gain meal planning skills, have implemented routines and worked through the roadblocks that previously stood in your way.
How to Join the Heart Smart Jumpstart Program
Fill out the application below and you will be contacted shortly!
While making sustainable improvements to your health and in your life is invaluable, I know that financial situations can sometimes get in the way. To make investing in your health less of a financial burden, I offer payment plans, accept HSA/FSA payments and can offer a superbill receipt to submit to your insurance company for reimbursement.
Due to state licensure laws, I am only able to work with clients from: Michigan, Arizona, Wisconsin, Indiana, West Virginia, New York, Pennsylvania, Connecticut, Massachusetts, New Hampshire, Vermont, Washington, Oregon, idaho, Wyoming, Utah, Texas, Oklahoma, Alaska, and Hawaii.
If you are READY to stop waiting for a better day to make a change, fill out the application above and LET'S GET STARTED!