Are you ready to take charge of your health and prevent (or even reverse) heart disease?
Heart disease is the number ONE killer of women today and so many times the fatal outcome this disease creates is preventable.
High blood pressure, high cholesterol, pre-diabetes, lack of movement, high stress, poor sleep, a diet lacking important nutrients.. all of these factors increase your risk of a life changing heart attack or stroke.
NOW is the time to take action, make a change, and improve your health and your well-being now and far into the future.
This is where the Heart Smart Jumpstart program comes in.
NOW LAUNCHING THE BETA PROGRAM FOR A VERY LIMITED NUMBER OF CLIENTS!
What does the Heart Smart Jumpstart program involve?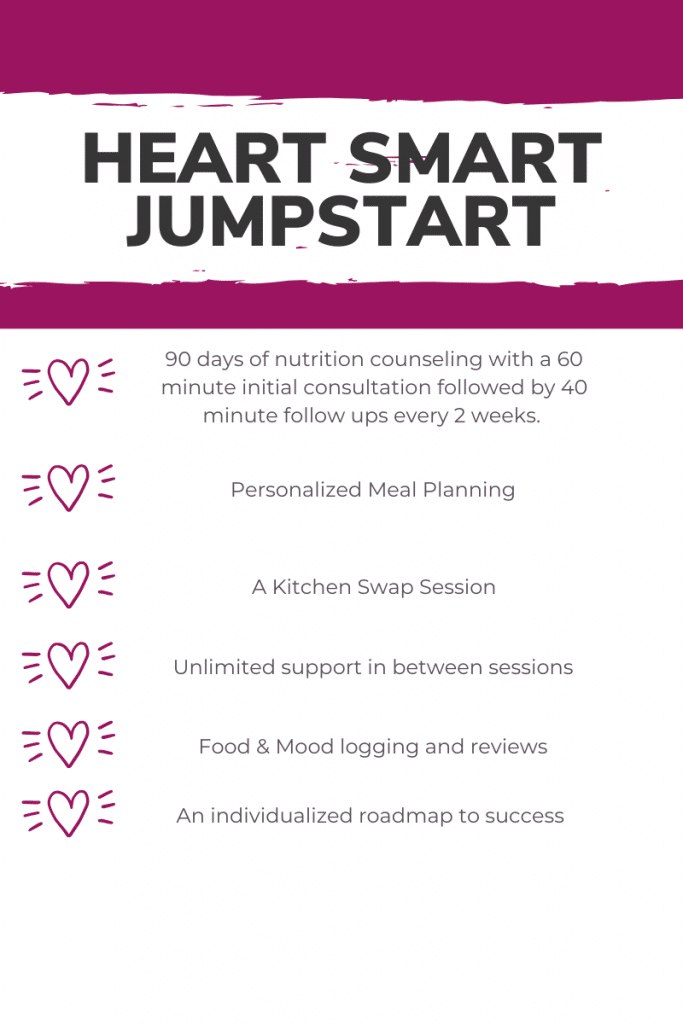 What can you expect to gain from the Heart Smart Jumpstart Program?
Lower Cholesterol
Through diet changes and implementing a sustainable movement routine you will start slashing your cholesterol levels. Lower your LDL, triglycerides, and total cholesterol while raising that good for you HDL cholesterol.
Improved Blood Sugars
If you are at risk for diabetes or have been diagnosed with pre-diabetes, then this program will help you get some solid routines in place to help. You will begin eating balanced, nourishing meals from your personalized meal plans to help stabilize your blood sugars. Activity, stress reduction, and better sleep help in this department as well.
More Energy
One of the immediate effects of the lifestyle changes that improve your future health is the increase in energy you will feel. You are not dieting, cutting calories, and limiting energy. You will be fueling your body with nourishing food, energizing yourself with movement, and implementing stress reduction and sleep-improving practices.
Confidence In Yourself
One of the most important things you will gain from this 12 week program is the confidence to continue to make heart healthy choices in your life. You will gain meal planning skills, have implemented routines and worked through the roadblocks that previously stood in your way.
How to Join the BETA Heart Smart Jumpstart Program
Fill out the application below and you will be contacted shortly!
How much does this program cost?
This BETA program is offered at a steep discount that will NEVER be offered again. For only the first FOUR people accepted into the BETA program, the cost of the entire 4-week program is $750.
Why is the cost so low? By Participating in this program you are helping me to validate that the strategies implemented work as well as I know that they will. Your feedback will help me to tweak and transform this program into one that will continue to change the lives of many people for years to come.
While making sustainable improvements to your health and in your life is invaluable, I know that financial situations can sometimes get in the way. To make investing in your health less of a financial burden, I offer payment plans, accept HSA/FSA payments and can offer a superbill receipt to submit to your insurance company for reimbursement.
If you are READY to stop waiting for a better day to make a change, fill out the application above and LET'S GET STARTED!