Keep this homemade elderberry syrup on hand all year long to help decrease cold and flu symptoms and keep your immune system strong!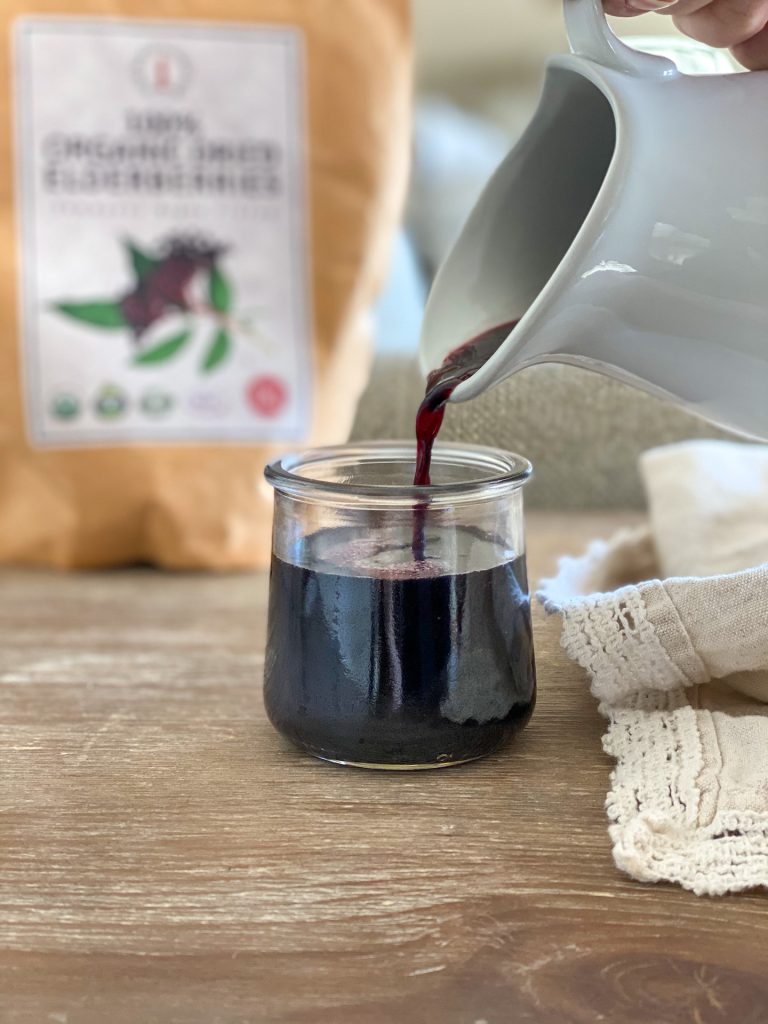 This post may contain affiliate links- meaning if you click and choose to make a purchase, I may receive a small commission at no extra cost to you! See the privacy & disclosure page for more information.
Fall is such a wonderful time: comfort foods, bonfires, football games, the impending holiday season.. cold and flu season. There are a lot of ways we can try to keep the cold and flu away, but what happens if you get sick anyway?
Don't let the impending sniffles and sore throats keep you from enjoying life for too long! Mother nature has a few tricks up her sleeve for us and Elderberry is one herb that has gotten a lot of attention (for good reason) as a cold and flu fighter.
This elderberry syrup recipe is a simple way to keep the powerful benefits of the elderberry plant on hand all year, ready for action at the first sign of illness.
Potential Health Benefits of Elderberry
While there are no FDA approved uses for elderberry as a medicine, there have been several studies done that show a lot of promise for elderberry's effectiveness at shortening cold and flu symptoms as well as decreasing the severity of those symptoms.
Based on in vitro and human studies, the properties and potential benefits of elderberry include:
With several potential benefits and very limited adverse effects (be sure to read below who should NOT take elderberry) having a batch of elderberry syrup in your cold and flu survival kit is a must!
How to Make Homemade Elderberry Syrup
Making elderberry syrup at home is easy and contains ingredients that you likely already have in your kitchen.
Ingredients for Elderberry Syrup
Dried elderberries (affiliate link)
1 small orange (zest and juice)
Cinnamon sticks
Ginger
Whole cloves
Honey
How-to
Add all of the ingredients (except for the honey) into a small pot along with 4 cups of filtered water. Bring to a boil.
Turn down the heat, cover, and allow the mixture to simmer for 45-60 minutes or until the liquid has reduced by half.
Turn off the heat and pour the mixture through a mesh strainer to separate the solids from the juices. Press down on the berries to extract as much juice as you can!
Once the juice has cooled slightly, add the honey and stir until it is dissolved.
Store your elderberry syrup in a glass jar or bottle in the refrigerator for up to 3 months.
Print Recipe
Homemade Elderberry Syrup
This easy homemade elderberry syrup recipe comes together quickly with simple and powerful ingredients. Keep this on hand all year long to help decrease cold and flu symptoms and keep your immune system strong!
Equipment
medium sauce pan

mesh strainer

Jar or bottle for storage
Ingredients
4

cups

water

2/3

cups

dried elderberries

2

cinnamon sticks

3

tbsp

orange juice

or juice from one small orange

1

tbsp

dried whole cloves

about 10 cloves

1

tbsp

orange zest

or zest from one small orange

1

inch

ginger

about 1 tbsp

1/2

cup

raw honey
Instructions
Place water, elderberries, cinnamon sticks, cloves, orange zest and juice, and ginger in a medium sauce pan. Bring to a boil.

Reduce heat to a simmer and cover. Let the mixture simmer for 45-60 minutes or until the mixture has reduced to about half.

Strain the ingredients out by pouring through a mesh strainer. Make sure to press down on the berries and squeeze out all the goodness you can!

Pour the honey into the liquid and stir to combine. Pour into an airtight bottle or jar and store in the refrigerator for up to 3 months.
Notes
This recipe makes about 2 cups of syrup or 32 tablespoon servings. 
For cold and flu: A typical serving for an adult is 1 tablespoon several times per day at the first signs of illness. For a child 1 tsp 3 times per day (always a good idea to check with your child's doctor!). 
For preventative daily intake: 1 tablespoon daily for adults and 1 tsp daily for children. 
DO NOT give to a child under ONE year of age. Consumption of honey in an infant can result in botulism intoxication. 
** All nutrition information is an estimate only. The nutrition information will vary depending on ingredients and amounts actually used in preparations. 
Are there any safety concerns with elderberry?
There are some things to be aware of when it comes to elderberries and safety. As with any natural remedy, if it is strong enough to provide benefits, it can be strong enough to cause harm if taken incorrectly!
Parts of the elderberry plant are poisonous. The bark, leaves, roots, and seeds, as well as unripe berries have a toxic component that produces the chemical cyanide. Overconsumption can cause nausea, diarrhea, and depression of the nervous system. While fresh berries are not harmful, overconsumption can cause ill effects as the chemical is still present in small amounts in the seeds.
Cooking or heating the berries deactivates this compound, making them safe for consumption in more concentrated amounts.
Who Should NOT Take Elderberry Syrup
Elderberry's method of action to fight cold and flu symptoms is immune stimulation. If you have an autoimmune disease or take immunosuppressants, you will want to talk with your doctor before taking anything containing elderberry.
Infants under ONE should not take elderberry syrup as it contains honey. Honey can contain botulism spores, putting infants at risk for contracting botulism, which can be life threatening.
How to Use Elderberry Syrup
Since elderberry is not FDA approved for treatment of disease, there are no regulated amounts for dosing. However, several sources recommend similar dosing for the syrup:
For Daily Maintenance
Adults: 1 tbsp daily
Children: 1 tsp daily
You can also use this syrup to flavor your oatmeal, yogurt, and as a topping for ice cream for a delicious way to include it in your daily diet!
At the First Sign of Cold/flu Symptoms
Adults: 1 tbsp up to 4 times daily
Children: 1 tsp up to 4 times daily
How Long Does Homemade Elderberry Syrup Last?
When you keep elderberry syrup in the refrigerator it could last up to 6 months. I would recommend consuming within 3 months, but if you wanted a longer shelf life you could add more honey to increase stability.
Want to try Elderberry Syrup without Making it?
While I think making your own herbal remedies is a great way to control ingredient quality, I understand that not all of us have the time or desire to make these products ourselves. Elderberry supplements (affiliate link) are widely available to purchase.
Did you make this Elderberry Syrup yet?
Rate it below
Tag me on Instagram !
Share it on Facebook !
Not ready to make this Elderberry Syrup just yet? Add it to your favorite Pinterest board to save for later!