Everything Bagel seasoning has exploded on the shelves (for good reason- YUM!) but if you are trying to keep your salt intake in check, you might be nervous to try it. Make this Low Sodium Everything But the Bagel Seasoning Recipe and get ready to use it on EVERYTHING!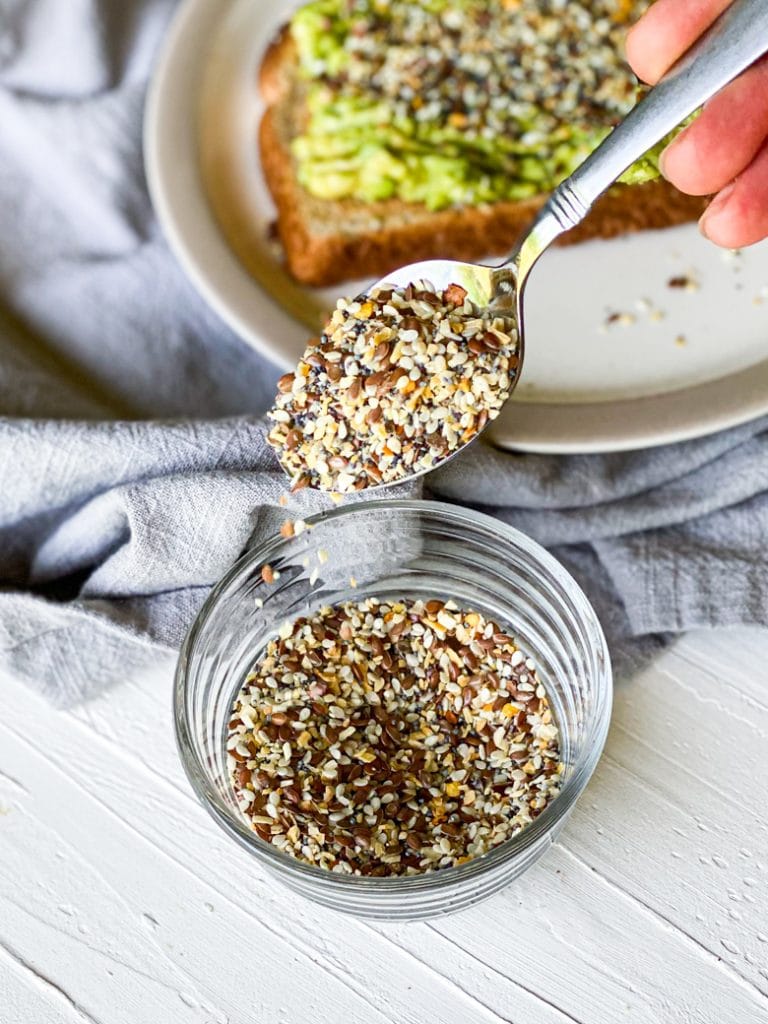 While I would argue that everything bagel seasoning goes well on almost everything, most of the jarred variety comes with a hefty amount of salt. Whether you are limiting your salt intake for medical reasons or just wish to decrease the amount you eat daily, this everything bagel seasoning has you covered.
All the flavor- sans salt. It is possible.
What Is In Everything Bagel Seasoning?
To make 9 tsp of this Everything But the Bagel Seasoning Recipe, Mix:
Flax seeds
Sesame Seeds
Poppy seeds
Minced onion
Minced garlic
Red pepper flakes
Black pepper
Coarse Sea Salt
It all goes in an air tight container and you can use it for up to 2 months (but I promise it won't last that long!).
Everything Bagel Seasoning Uses
My favorite part about this seasoning is how many ways it can be used to add amazing flavor to so many foods!
On avocado toast.
On a bagel thin with cream cheese.
To season homemade popcorn
On top of cottage cheese.
In egg salad.
To season chicken or salmon.
On scrambled eggs.
To season roasted veggies.
Oh, and I almost forgot, to make Everything Bagel Hummus!
Why Choosing Low sodium seasoning makes a BIG difference
If you are watching your salt intake, choosing low sodium seasonings can be a key part of your plan. The serving size of a lot of seasonings is 1 tsp or less and many of them can be packed full of salt.
Being that 1 tsp of pure salt is 2300 mg of sodium (as much, or more, then we should have in one entire day) it's easy to go overboard when using traditionally bought seasonings.
When comparing this recipe to the store bought everything bagel seasoning: 1 tsp of the store bough variety has FOUR TIMES the amount of sodium that this recipe has. With only one tsp of the store bought seasoning you will get 25% of your daily value of sodium.
One tsp of this everything but the bagel seasoning recipe has only 66mg of sodium (or 3% DV). If you want, you can completely omit the salt too- the flavor is still on point without it!
That's quite a difference!
Did you make this Everything But the Bagel Seasoning Recipe yet?
Rate it below
Tag me on Instagram !
Share it on Facebook !
Print Recipe
Low Sodium Everything But The Bagel Seasoning
Love Everything But The Bagel seasoning but don't love the high sodium content or the price tag? Make your own low sodium version at home to enjoy on a variety of foods without the extra added salt!
Ingredients
2

tsp

Whole Flax Seeds

2

tsp

Sesame Seeds

2

tsp

dried minced onion

2

tsp

dried minced garlic

1

tsp

poppy seeds

1/4

tsp

red pepper flakes

1/4

tsp

black pepper

1/4

tsp

coarse sea salt
Instructions
Mix all spices and seasonings together and store in an airtight contaner for up to 2 months.
Notes
** All nutrition information is an estimate only. The nutrition information will vary depending on ingredients and amounts actually used in preparations. 
Not ready to make this Everything Bagel Seasoning recipe just yet? Add it to your favorite Pinterest board to save for later!