Buffalo Chicken Flatbread is spicy tangy and so easy to put together. This makes the perfect game day appetizer or main course for an easy weeknight dinner!
Recipe Cost: $6.96| Cost Per Serving: $1.40
Flatbreads are one of my favorite party foods or easy dinner to throw together. And Buffalo sauce? Easily one of my favorite flavors.
One of the most disappointing experiences at a restaurant included ordering a buffalo chicken wrap and biting into chicken coating into what is known as "bang bang" sauce. Sorry, but bang bang sauce is not buffalo sauce.
This happened at not one, but two restaurants within a few months. But don't worry, this recipe isn't deceiving like all of those restaurant menus! This pizza is covered in actual buffalo sauce.
Buffalo Chicken Pizza Ingredients
Flatbread
You can use traditional flatbread, naan, or even mini flatbreads if you want to make individual pizzas.
Chicken
The recipe calls for cooked, chopped chicken. I baked my chicken by seasoning with salt and pepper and baking for 30 minutes or so at 375 degrees. I chopped the pieces up into small 1/2 inch pieces. You could make your chicken in the crockpot, pressure cooker, or buy a rotisserie chicken.
Buffalo sauce
To make this super easy, I just used a store bough buffalo wing sauce. If you want to go the homemade route, try this homemade buffalo sauce!
Mozzarella Cheese
When it comes to mozzarella cheese, there are a few options. We tend to buy our mozzarella in blocks and shred ourselves. You can buy it pre-shredded to make it easier, or if you really enjoy the taste of fresh mozzarella (who doesn't?) just slice thin and use that on top.
Blue Cheese Dressing
You could use blue cheese crumbled, but I love the extra creaminess that the dressing adds to the flatbread. The buffalo sauce is used sparingly, so it's not super saucy unless you opt for the blue cheese dressing.
Green Onions
Sliced thinly and used as a topping, you could skip this part, but I wouldn't recommend it!
Light Olive Oil
Use light olive oil or avocado oil instead of Extra virgin olive oil as you will be baking the buffalo chicken flatbread at a high heat.
Tips For How to Make Buffalo Chicken Flatbread
Make sure you preheat the oven and bake the flatbread for the 5 minutes before adding your toppings. If you skip this step you will end up with a soggy flatbread. No one wants that.
Like a lot of buffalo sauce or blue cheese? Start with the recommended amounts and add more at the end if you need to. Adding a little extra on top adds great visual appeal along with the extra flavor and sauciness.
Cut into small squares for an easy appetizer or large slices for dinner. Serve with some air fried green beans or a side salad for a complete meal!
Did you make this Buffalo Chicken Flatbread yet?
Rate it below
Tag me on Instagram !
Share it on Facebook !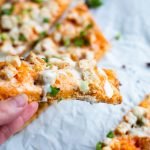 Print Recipe
Buffalo Chicken Flatbread
This buffalo chicken flatbread is the perfect quick party appetizer or weeknight dinner. Spicy and tangy buffalo sauce marries cool and creamy blue and mozzarella for a flavor explosion you won't want to put down!
Ingredients
2

flat breads

14 oz package or equivelant

2

tsp

light olive oil

1/2

cup

buffalo wing sauce

more if desired

1.5

cups

diced cooked chicken

approx 3/4 pounds.

1

cup

shredded mozzarella cheese

1/3

cup

blue cheese dressing

more if desired

1/3

cup

sliced green onions

3 green onions, white stems removed
Instructions
Preheat the oven to 425 degrees F.

Place flatbreads on a sheet pan and brush the edges lightly with olive oil.

Bake the flatbreads for 5 minutes until warmed and just starting to crisp.

Remove from the oven and spread the buffalo sauce evenly over both flatbreads. Sprinkle diced chicken and mozzarella cheese on top. Drizzle the blue cheese on top.

Bake for 12-15 minutes until edges are slightly browned. To brown the tops, place under the broiler on high for the last 1-2 minutes.

Remove from oven. Sprinkle with sliced green onions and additional buffalo sauce and blue cheese if desired.
Notes
** All nutrition information is an estimate only. The nutrition information will vary depending on ingredients and amounts actually used in preparations. 
Not ready to make this flatbread pizza just yet? Add it to your favorite Pinterest board to save for later!
Love buffalo sauce AND pizza? Try one of these!